Harry Graham (Col. D. Streamer),
Carolyn Wells
&
Willem Frederik Hermans

Ruthless Rhymes / Little Willies
In 1898 verscheen het boek Ruthless Rhymes for Heartless Homes. De auteur van deze 'meedogenloze rijmen' was Col. D. Streamer, pseudoniem van de Engelsman Harry Graham (1874-1936).
Ruthless Rhymes & W.F. Hermans
In zijn verhaal Een wonderkind of een total loss (1967) haalt Willem Frederik Hermans (1921-1995) twee "ruthless rhymes", ook wel "little willies" genoemd, van Col. D. Streamer aan:

[Loekie legt Alex vuilgele Thermogène watten op zijn rug. (...)] Alex houdt niet op met kreunen.
'Stel je niet zo aan,' zegt Loekie.
'Little Willie,' begint Alex stamelend te declareren, 'o, verdomme, wat brandt dat, little Willie, in the best of sashes, fell in the fire and was burned to ashes. By and by the room grew chilly, but no one liked to poke up Willie. O, verdomme.'
Dit vers heft hij van Loekie geleerd, die alle nonsens van Colonel Streamer uit d'r hoofd kent. Daar begint ze al: 'Making toast at the fireside, Nurse fell in the grate and died. And, what makes it ten times worse, all the toast was burned with nurse.'
De tranen staan Alex in de ogen, maar niet van het lachen. Mij evenmin. Wat hebben papa en ik niet van Loekie verwacht toen zij naar Coleridge College ging, hoe jaloers was ik niet op haar? En niets heeft ze daar geleerd dan flauwe rijmpjes, in plaats van minstens met een hertog te trouwen.

Little Willies & Carolyn Wells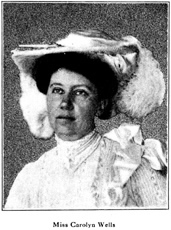 Het eerste rijmpje van Colonel Streamer dat Hermans Alex laat opzeggen, verschilt van de oorspronkelijke tekst van Graham. De eerste regel van Graham luidt: "Billy, in one of his nice new sashes." Hermans citeert een Amerikaanse versie van het gedichtje. Wellicht maakte hij gebruik van de door de Amerikaanse schrijfster Carolyn Wells (1869-1942) samengestelde bloemlezing 'A Nonsense Anthology' (eerste druk 1902, daarna vele herdukken). Hierin zijn vier kwatrijnen van Col. D. Streamer opgenomen, waaronder de versie die Hermans gebruikte en de tekst van het tweede rijm. De bundel (1910 editie) is beschikbaar op de website van het Project Gutenberg.
Misschien is Carolyn Wells degene geweest die Billy voor het eerst in Little Willie omdoopte (p. 253). In de bundel staat, twee bladzijden verder, ook nog een rijmpje met de titel Little Willie van een anonieme auteur:
LITTLE WILLIE
Little Willie hung his sister,
She was dead before we missed her.
"Willie's always up to tricks!
Ain't he cute? He's only six!"
Carolyn Wells verwijst bij de overgenomen "ruthless rhymes" van Graham naar de Amerikaanse editie van 1901, uitgegeven door R.H. Russell te New York. Misschien mag zij de geschiedenis ingaan als de naamgever, 'little willies', voor dit soort versjes. Of mag zij ten minste bestempeld worden als de aangever van de naam: als degene die Little Willie opnam in haar bundel en het gedicht van Graham zo redigeerde dat soortgelijke versjes er later naar vernoemd werden.
Carolyn Wells stelde meer bloemlezingen samen en schreef vele gedichten, limericks, meisjesboeken, detectives en romans. Met in totaal 170 boeken werd ze wel omschreven als een "literary powerhouse". Een van haar limericks is:
A canner exceedingly canny
One morning remarked to his granny:
"A canner can can
Any thing that he can
But a canner can't can a can, can he?"
Het versje doet aan de woordherhaling in 'wat Kan kan kan Kan alleen' denken, gebruikt om cabaretier Wim Kan (1911-1983) mee te typeren, maar eerder al gebruikt als reclameslogan door bonthandel Kan (Enschede) en juwelier Kan (Amsterdam, Haarlem).
Ruthless Rhymes & Harry Graham
Hieronder staan de originele teksten van de 'ruthless rhymes' van Graham die W.F. Hermans aanhaalde:
Tender-Heartedness.

Billy, in one of his nice new sashes,
Fell in the fire and was burnt to ashes;
Now, although the room grows chilly,
I haven't the heart to poke poor Billy.

Misfortunes Never Come Singly.

Making toast at the fireside,
Nurse fell in the grate and died;
And, what makes it ten times worse,
All the toast was burned with nurse.
Ten tijde van het verschijnen van de Ruthless Rhymes for Heartless Homes (geïllustreerd door GH) was Harry Graham aide de camp (adjudant) van Lord Minto, gouverneur-generaal van Canada. Daarvoor maakte hij, na zijn opleiding in Eton en aan het Koninklijke Militaire College Sandhurst, deel uit van de Coldstream Guards. Aan dit garderegiment ontleende hij zijn pseudoniem Col. D. Streamer. In 1904 nam hij ontslag uit het leger en werkte twee jaar als privésecretaris van de Britse politicus Lord Roseberry.
Vanaf 1906 verdiende hij de kost als schrijver van verhalen, gedichten en liedteksten voor musicals, muzikale comedy's en operettes, zoals The Maid of the Mountains en The Land of Smiles (Das Land des Lächelns). In 1931 had hij een groot succes met de teksten voor The White Horse Inn, een Engelse bewerking van de operette Im weißen Rößl. Het lied 'Good-Bye' uit de tweede acte werd een van de succesnummers van de tenor Josef Locke (1917-1999).
Een jaar eerder was een nieuwe bundel met 'meedogenloze rijmen' verschenen: More Ruthless Rhymes for Heartless Homes, met illustraties van Ridgewell (William Leigh Ridgewell, 1881-1937).
In een filmpje op YouTube (Some Interesting Facts About Peter Cook) vertelt Sarah Seymour, zus van de legendarische satiricus/comedian Peter Cook (1937-1995), over "a wonderful book called Ruthless Rhymes for Heartless Homes, that was around all of our childhoods, a very weird, very funny, very strange...", gevolgd door de eerste twee regels van Grahams rijm Opportunity uit More Ruthless Rhymes for Heartless Homes

When Mrs. Gorm (Aunt Eloïse)
Was stung to death by savage bees,
(...)


waarna een scène volgt met Peter Cook die de deur opent voor een reuzenbij.